Product Delivery and Bagging
We deliver all throughout South East Queensland, as well as into Far North Queensland and New South Wales.
We run our own fleet of trucks and we've got a vehicle to suit all jobs: Small body trucks, truck and dogs, semi-trailers, side-tippers, walking floors and B-Doubles.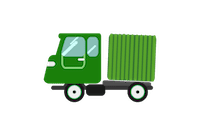 Small Truck:
H2.9m; W2.5m; L6.1m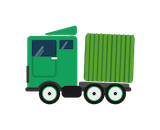 Body Truck:
H4.1m; W3m; L8.4m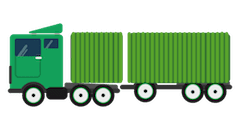 Truck & Trailer (dog):
H4.1m; W3m; L20m
Earthborn use a fleet of varying sized vehicles. The above dimensions are estimates. We can also supply product in semi trailers, walking floors, B-Doubles or side tippers upon request.
If you have concerns about access, please discuss this with us when confirming your order.

Weigh 300-1200 kgs each
Any of our products can be bagged into 1m³ bulk bags for an extra cost of $20-$30.
If you require the bags on pallets, we can supply them for $15 each, or you are welcome to supply your own in advance.
Bags are delivered on flatbed trucks – rigid (approx. 10 bags per load) or semi (approx. 20 bags)
Unloading of bags at delivery point will require a forklift or crane.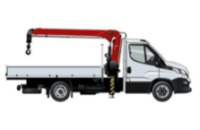 Trucks with crane or fork (moffett) attachments can be supplied. Bulk Bag freight is charged at $125 per hour +GST, return trip.